Sumo Support
Are you a user of Sumo! for iPhone? Having problems? Yeah? Well, you came to the right place!

Technical Support by Email
Our technical support team uses a web-based system to track support requests. If you need technical support for Sumo!, please submit a support request via email using this link: support@stinkbot.zendesk.com. You can follow the progress of your support request by logging in here.
Note to TubeSock users: this is a different technical support email address than the one we use for you. Different systems for different programs. Please don't cross the streams.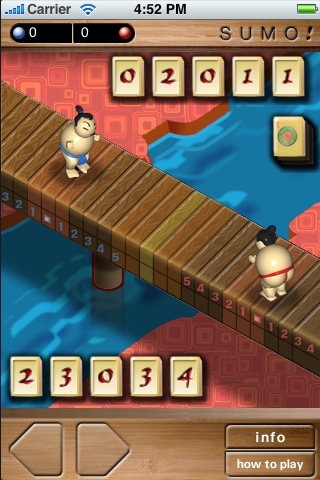 (Click to enlarge)
Current Version
The current version is 1.0.1. Please check the App Store for the update! As of now, there is no other way for us to send you an update.
Sumo! 1.0 was released on July 12, 2008.
Sumo! 1.0.1 was released on July 15, 2008. Among the bugs fixed:
Human's turn sometimes gets skipped
Score should show the MATCH score
Player not being reset at the end of a game
Game doesn't recognize when you don't have a legal move
Tile sounds don't play for dealt tiles
If computer wins by position, he doesn't get the right score
No step-sound when retreating
After the deck is empty, each dealt tile triggers the "end of game"
Alignment of red sumo's plank numbers is off when Sumo is near far edge of bridge
What is Sumo?
Sumo! is a fast-moving game of strategy we originally created as a Shockwave game in 1997. It was featured in Wired magazine and had millions of players for both its single-player and multiplayer versions. We later made a half-assed version for the Palm OS. For its tenth birthday, we dug it up, dusted it off, rewrote it in Objective-C, prettied it up, and now we're selling it on the App Store!
Free updates for registered users! We're up to version 1.0.1 now. Check the App Store icon for your update!
Want Sumo! for the web or Palm? The Shockwave game can be played here, and there is a downloadable version for Palm OS here.
[ Back to top ]